The best players in the world will once again form part of the street furniture in the city of Madrid thanks to the Mutua Madrid Open's new campaign promoting the sixteenth staging of the tournament. The goal is to link the city's monuments to the great monuments of world tennis.
Rafa Nadal as part of the Puerta de Alcalá, Garbiñe Muguruza in perfect symbiosis with the Puerta del Sol, Novak Djokovic adorning the Metropolis building, Andy Murray flying above the Almudena Cathedral and Serena Williams on the Palacio de Correos, will get the ball rolling for the campaign for this year's tournament, which takes place from 5 to 14 May. With its slogan "Tennis is Madrid", the Mutua Madrid Open is now a "Monumental" tournament.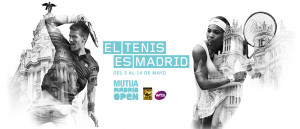 At the campaign's official presentation, transmitted live for the first time on Facebook, the tournament's head of marketing, Javier García, spoke about some of the campaign's strategic plans: "One of the main goals is to further strengthen the tournament's ties with the city of Madrid. We want all of its citizens to feel like the tournament is their own and to come and enjoy the game's biggest stars. Between now and May it will be great to see Nadal, Murray, Garbiñe, etc. as new citizens of Madrid, taking over our streets and monuments".
As from Monday 12 December, tennis will become increasingly visible on the streets of Madrid, thanks to the street advertising throughout the city, which will remind the citizens that from 5 to 14 May Madrid will once again be the epicentre of world tennis at this "Monumental" tournament. President and CEO of the Mutua Madrid Open Gerard Tsobanian highlighted the challenges presented by the current tennis landscape "The season that is about to start in Australia promises to be an exciting one with the return of Federer and Nadal, the battle for the number one spot on the ATP and WTA tours, the challenges from Muguruza, Kerber and Serena, plus breakthrough players like Thiem, Pouille and Zverev, who seem to have to fear of the best players and look to be here to stay. We can't wait to see them play in Madrid".
Nacho Romay, Noho's Creative Director and one of the architects of the graphical aspect of the campaign, is very proud of the final result: "The concept is very simple and very direct. The list of monuments and players was certainly enormous, but by using double exposure we have managed to perfectly marry the movement of the players with some of Madrid's most emblematic sites".
Nadal, Muguruza, Murray, Serena and Djokovic will be the first players to appear on the streets to remind us that "Tennis is Madrid" and that, from 5 May, we will be able to see Monumental Tennis once again in the Caja Mágica. Tickets are on sale now at www.madrid-open.com and entradas.com.